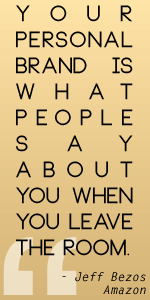 As the New Year begins, you'll likely be thinking of ways to put your best foot forward in the business world. Each of us carries a unique set of personal goals – but whether or not we achieve those goals depends on a number of factors. Specifically, the health of your personal brand can be the make-or-break play as you gear up for 2016.
The idea that branding might extend from the corporate to the personal level is not entirely new, and there are many variations on the definition of this abstract term. Regardless of your opinion, the importance of personal brands is that they are always front-and-center. Jeff Bezos, founder of Amazon, sums up the concept quite simply, explaining that, "Your personal brand is what people say about you when you leave the room."
Because personal brands are a function of how others perceive you, it's important to re-audit your brand periodically by conducting an honest self-examination. An effective brand audit should consist of three core elements:
Knowledge – What are your areas of expertise? More importantly, where are you lacking?
Appearance – How would others describe both your physical and temperamental demeanor? What type of energy do you radiate?
Differentiator – How are you unique? What sets you apart from your co-workers? Is your differentiator positive or negative?
In sum, the personal brand is simply a concept meant to demonstrate how you are viewed. As you go through this self-examination process, you may also want to apply it at the corporate level. The way you (and your company) sculpt your image is ultimately what defines the kind of success others believe you are capable of.
A "successful" brand will include a healthy marriage of the aforementioned elements – but make no mistake- a brand (personal or otherwise) is always a work in progress, and should never be considered "complete." As marketers, we have an acute responsibility to assess the effectiveness of our messaging. We should extend the same courtesy to our personal and corporate image. So as you enter the New Year, consider how your brand is holding up!
Reassessing your self-image can only make reaching those resolution goals easier! A healthy personal brand will benefit your company too! Generate a network of opportunities for your company by being you, the real you, the one everybody loves!
Want to go the extra mile for your company?