---
IMS360 Group provides a complete, scalable marketing infrastructure for Manufacturers and Distributors. We provide premiere Marketing Consultants, a platform, vendors and complete reporting visibility all under one roof.
World Class People, Process and Tools
Our people truly understand the dynamics of the channel, as well as have years of experience focusing solely on marketing in the IT industry.

Everything Under One Roof
IMS360 combines talented marketing consultants, a creative agency, a network of vendors and 360* visibility which creates results at a predictable cost.

Focusing Exclusively in the IT Industry
Unlike other agencies, IMS360 group focuses solely on the IT industry.
Your Partner Marketing Infrastructure
Channel Marketing Coverage, Programs, MDF, Direct Marketing and Drag Marketing, all geared to integrating into the fabric of your channel.
Complete marketing infrastructure
---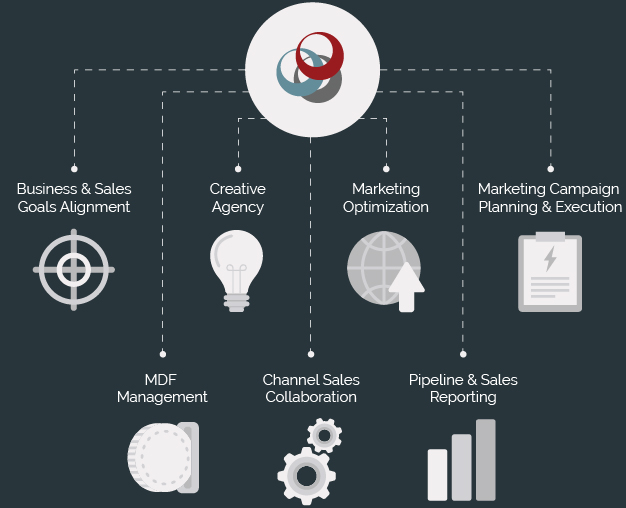 Channel Marketing Coverage
Manufacturers spend millions of dollars on field and virtual marketing coverage. IMS360's outsourced marketing infrastructure can provide a marketing coverage model for a variety of channel partners.

Manufacturer Covered Partners
Commercial, enterprise, federal, and SLED-focused partners

Distributor Covered Partners
High potential and high growth partners

Manufacturer Direct Marketing
Our clients also use us to help them provide marketing coverage for their sales teams including event planning, event execution, inbound marketing, and digital marketing management.

Alliance Channel Marketing
Many Manufacturers partner with Independent Software Vendors and look for creative ways to market with them to drive complementary solutions. Our marketing infrastructure is able to adapt to support these types of Manufacturer initiatives.
We solve channel challenges
---
1
Creating high-use programs
Supplying leads or trying to scale one-off marketing programs is not a long-term solution, nor truly scalable. Partners crave the ability for manufacturers' to partner with them to create a long-term, enabled strategic marketing plan. With the ability to also drive execution, partner's participate emphatically.
2
No visibility into partner pipeline
Limited visibility or made-up, inflated pipeline numbers limit a Manufacturers' or Distributors' ability to forecast sales figures or partner sales growth. IMS360 provides an unseen visibility into partners' pipeline that can be directly attributed to our consultants' marketing plans.
3
Ineffective MDF usage
Funding appreciation events sure makes the partner happy, but provides no real ROI. IMS360 is able to work with partners to leverage funding for integrated campaigns that align to the new ways B2B buyers are researching and purchasing IT solutions. On average our MDF spend rate for clients is over 97%.
4
Poor partner mindshare
No matter how impactful your solutions are to resellers, unless you are able to provide programs and initiatives to help drive demand jointly, resellers gravitate to other directions. IMS360 is able to help you provide a consistent touchpoint to partners and create a relationship that integrates you more into their business.
Get in touch
---
Reach out to us today and schedule a meeting to learn how IMS360 can increase the vibrancy of your channel.